Discover more from Food For Founders
A newsletter on ideas for growing a business based on observation of venture creation through one person's perspective. Posting schedule = daily for paid subscribers. TBD for free subscribers.
Sunday Spotlight: Makeswift
A no-code platform that could change the game.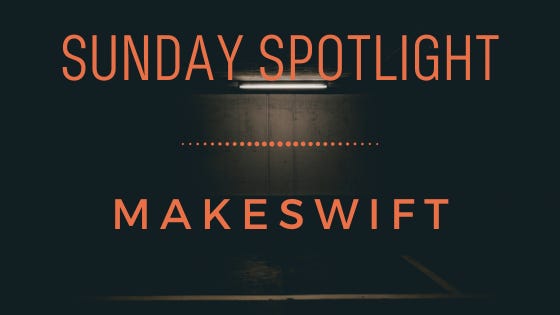 Name: MakeSwift
Link:https://www.makeswift.com/
Concept: No-code app building software
Found: 12/18
Application: KnowCap was actually user number 23 for MakeSwift (now they have thousands on their waitlist). We were customers of the team's previous product LandingLion and I believed in their vision for building a component-based website builder. 
No-code hit it's stride last year, but I have seen the effects of it for years after learning how to leverage Zapier to replace the need to hire multiple employees at a company I started a few years ago. Ever since then, I've been addicted to the idea of no-code.
MakeSwift is one of those organizations that I've seen grow from the inside. I've chatted with their CEO. I exchange ideas with one of their top developers...they care what their customers think and that's why I'm bullish. 
Another reason why I'm bullish is that if they execute on their plan to launch a react components marketplace (and are able to directly integrate into GitHub) that would be a game-changer. 
Funding Round: Seed
Amount Raised: $1.5M
Exit Potential: High
Conviction: Seeing how they've methodically built out their company, I would see that they have high exit potential. I'm not an investor, but I would sure love to be. 
They hit no-code early and have initial traction, now all they need to do is make sure they can scale effectively (whether it's by growth or by profitability). At a minimum, I imagine that they are already an acquisition target for someone like a Mailchimp (who recently launched a website builder - Makeswift is better with fewer resources) or a Webflow (a components based library and marketplace is very valuable for this platform).
They could sell easily for over $50M, but in my heart, I believe they'll be over $250M within the next few years if they play their cards right.
There is an inflection point that will come and I've seen evidence of it.  They are being lapped by Webflow (because of its deep pockets) and they will need to balance bigger rounds vs. building slow if they want to make sure a larger company doesn't just build what they are working on. It wouldn't take too much competitive analysis to realize that the value of their core thesis is right on.