Food For Founders #42
F3 is a FREE weekly newsletter where we find the best concepts on the internet that will move the needle in your business.
I'm going to be honest. I wrote the normal newsletter and scheduled it…and then Mary Meeker's 2019 Internet Trends dropped in all it's 300-slide glory. I couldn't leave it alone…I also couldn't didn't have the time to do the whole thing myself. Thank goodness for Jeremy Liew over at lightspeed for distilling it into 30 slides so that I could put my spin on it.
Mary Meeker is a startup investment legend. Her "hits" include investing in: AirBnb, Instacart, Intercom, Peleton, Plaid, Slack, Soundcloud, Stripe, Pinterest, Houzz. That's just private companies….her exits are equally as impressive: Docusign, Facebook, Groupon, LendingClub, Ring, Snap, Spotify, Square, Twitter, Waze.
She's really good and when she talks the startup & technology world listens. This report is considered a kind of "Christmas" for anyone in/around the ecosystem and man does it have some good takeaways. Fortunately, Jeremy Lieu of Lightspeed Ventures created a great tweetstorm of the highlights (thanks for saving me hours, Jeremy), here are a few I want to point out…
It's back to the basics - be community first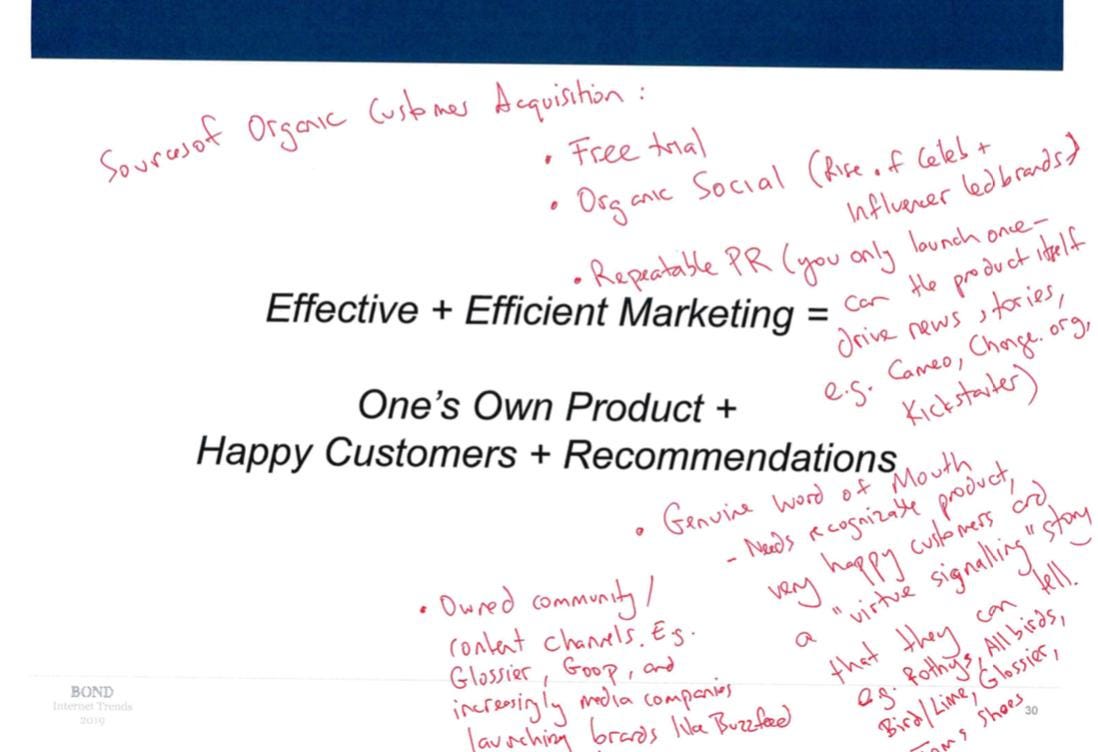 It's time to figure out how to leverage the marketing and growth strategies of the 2000's. The paid social arbitrage model is no longer the way that you will be able to grow a huge company.
Remember that watch company, MVMT that built their marketing purely on facebook ads and then sold to Movado for $200-300M? That probably won't happen with the next wave of startups until a better "mousetrap" comes along to get adequate distro to their targeted audience.
There's still Juice in Youtube and Instagram
There are a lot of headline readers out there saying that you cannot build a podcast following anymore (we'll get to that later) and that you cannot build a video or image-centric brand via Youtube or Instagram. They would be wrong with flying colors.
Making good content will be the differentiator, but as far as getting distribution…there's nothing like utilizing the algorithms in your favor. One thing we are seeing growth in is the idea of posting information in short-form (2-5min) that is packed with actionable intel. Yes, long-form is probably better for podcast format, but you aren't likely going to whip out your podcast app for five min increments. But, when you have those extra 3-5min in the bathroom, at the doctor's office, right before going to bed…you are much more likely to check out Youtube/Instagram for engaging content.
Stories are eating social platforms
I really don't need to provide context on this because it kind of speaks to the point above. Stories is becoming one of those places where people naturally go to engage with brands. When you think about how quickly you can zoom through "real" behind the scenes of brands, you get the picture of why people are loving the stories model.
It surprises me that every single company with more than 5 employees doesn't have each one of them do a "day in the life" on a weekly basis where they take over the corporate account and show what there life is like. Not only would this be an awesome recruiting leverage point, it would also allow customers to feel like they know the business they are working with.


Voice is not slowing down
I first began listenign to podcasts in 2012. Even then I thought it was peak podcast and then it kind of died off for awhile.
When I drove delivery during 2016, I listened to podcasts at 2x speed for 6-8 hours per day. I still credit those days to speeding up my learning to the point where I think I learned at least 4 years worth of experience in 10 months.
Now podcasts are mainstream and business owners are seeing the reality of having one - what happens if you could talk with customers and potential customers during their commute? What level of brand affinity and equity could you build? It's basically like a salesperson always giving value to your ideal customer profile…you can't beat that kind of activation.
I truly believe that ever brand should have a podcast if anything than to inform their internal employees and customers of what's going on. By having an internal podcast you can continue to share the vision, invite people to get the know the stories of your team, and embrace a new movement within your industry.
Conclusion
Thanks for reading! Part two of this post will be sent out to Food For Founder subscribers on Tuesday evening, I look forward to diving deeper into this trend report.
Have a great weekend!